Walnut Creek Cosmetic Dentistry Emphasizes the Importance of Knowing how to Safely Whiten Your Teeth
When you see a celebrity's smile on television, there's a desire to have similar shining teeth as they do. Some people assume that it's out of their reach, but scheduling an appointment with your Walnut Creek cosmetic dentistry can quickly and efficiently give you the brighter, whiter smile that you've dreamed of! We want to talk more about the popularity of teeth whitening and why seeing a professional is the best option.
As you visit your local grocery store, you'll be able to find a wall of take-home whitening kits on the shelves for the taking. It can be overwhelming, but some people choose this option because it's convenient and cheaper. Unfortunately, this isn't always the right choice. Every patient has their own unique smile, which means they all need a particular treatment for their teeth. The take-home kits may have too much or not enough bleach to change the shade of your teeth to the one you want. The bleach can also cause extreme sensitivity and damage your enamel, making it difficult for you to eat and drink normally.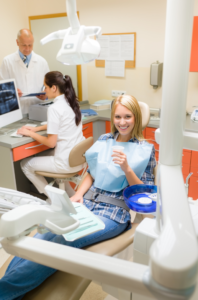 If you're interested in purchasing a take-home kit from the store, we highly recommend doing research beforehand. This includes visiting our office for consultation; your dentist is the best professional to ask to see what your teeth can handle and what can make them whiter and brighter to your liking. Ask as many questions as possible, even to explain how the whitening gels and strips work, just to make sure that your teeth won't suffer from any damage.
We also have the ability to whiten your teeth in-office, too! The process typically takes about an hour and you'll recognize a notable difference in the shade of your teeth once you're finished. You'll also feel much more comfortable, relaxed and knowledgeable, knowing that a professional is taking care of your teeth. If you're more comfortable in your home, then don't hesitate to ask about our personal whitening kits! Make sure to follow the instructions so your teeth will properly benefit from the treatment.
If you're interested in learning more or scheduling an appointment or consultation, please contact your Walnut Creek cosmetic dentistry by calling us today at (925) 937-9017! Your brand new smile is right around the corner!